MAY 18TH, 2010
FOR IMMEDIATE RELEASE

Meridian, MS - On Wednesday, May 19th, 2010, V-Street Entertainment in conjunction with Big Spenda Records will release Papa Duck's highly anticipated mixtape, "Why We Hustle" Puttin N' Work Special Edition for exclusive free download online at http://www.djno-good.blogspot.com.

Florida native, Papa Duck with the co-sign of the South's most respected DJ and CEO of Cool Running DJs, Bigga Rankin, has materialized to become one of the hottest unsigned talents in the game. In 2005, they released the classic mixtape "Welcome To My Hood," which sold over 50,000 units independently throughout the southeastern region. After two years of constant grinding and networking, he connected with Mannie Fresh (formerly of Cash Money Records) and released his first hit single, "Money All Around."

With his popularity growing as an artist, Papa Duck also established himself as mainstay producer. He eventually landed production credits on fellow Floridian, Plies' debut album, "The Real Testament" (2008). The chart topping album debuted at number two on Billboard and was later certified Gold by the RIAA (Recording Industry Association of America). Shortly thereafter a high volume of mixtape releases, guest appearances, performances, production credits and features with Gucci Mane, Rick Ross, Scarface, Lil' Boosie, etc. added to his growing buzz.

At the present moment, Papa Duck is in the studio recording new material for his debut album tentatively titled, "PapaDuck.Com." The album will feature guest appearances from his label-mates, DeeBo and Lost Child along with some major features. The lead single, "Pop Dat Cookie" is currently impacting radio, garnering spins, being added to mixshows and stations' playlist across the country. The street single, "Cocaine Money" features 1017 Brick Squad/Asylum/Warner Brothers Records Recording Artist, Gucci Mane.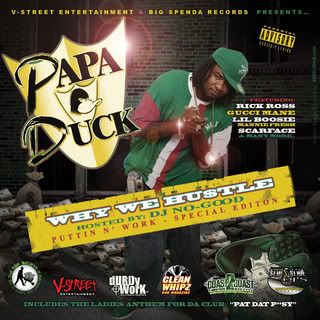 In addition, Papa Duck is looking to further his entrepreneurial spirit with his own label, Lil' Rock Dog Records, Mama Duck Clothing & Apparel, and the documentary "The Duckmentary" which is being edited for release. Papa Duck elaborates, "This 'Why We Hustle' mixtape with my homie, DJ No-Good is gonna be bananas! We're two of the hottest in the game and we definitely making moves. Florida and Mississippi connected and well respected. I appreciated every PD, MD, DJ, Club Owner, Blog Site, Website and most importantly my fans for their support."

For the latest and up to date info concerning Lil' Rock Dog Records/Big Spenda Record's recording artist, Papa Duck please visit http://www.myspace.com/therealpapaduck, http://www.twitter.com/papaduck1 or his official site http://www.papaduck.com. Please direct all media, booking and feature inquiries to Zoe (Papa Duck's Manager) at (850) 210-9573 or email papaduckmusic@gmail.com. For all other business inquiries please contact the office at (561) 876-2378.

For additional information on DJ No-Good pertaining to booking availability, mixtape hosting, upcoming releases, artist consultation, street promotions, etc., please visit http://www.myspace.com/djnogood, http://www.twitter.com/djnogood601, http://www.djnogood.com or contact V-Street Entertainment at (601) 938-4529 or by e-mail at: djnogood601@gmail.com.

Press Links:
http://www.pr-inside.com/papa-duck-why-we-hustle-puttin-n-work-special-edition-mixtape-hosted-by-dj-no-good-r1886865.htm
http://www.live-pr.com/en/papa-duck-why-we-hustle-puttin-r1048468004.htm
http://www.free-press-release.com/news-papa-duck-why-we-hustle-puttin-n-work-special-edition-mixtape-hosted-by-dj-no-good-1273676254.html
***PLEASE REPOST***